Customer Reviews
05/24/2020
Colton Q.
United States
Slayer
Came nicely packaged and the lenses have a really cool blue reflection in the light ❤
05/11/2020
Jessica A.
United States
Bent
When I got them they were bent. The quality isn't that Nice either. I'm going to the eye doc to see about getting my script put in. Hopefully they're worth it.
05/19/2020
Qveen: For the Modern Day Boss Bitch
Hi Jessica! We're happy to replace them if they got bent in shipment. Please shoot us an email support@qveenstudio.com
04/20/2020
Jess G.
United States
They're cute....
... but a bit overpriced for the quality.
03/04/2020
Katie E.
Canada
Super cute!
Love these! They're a super cute accessory to throw on to change up your look. The only reason I'm giving this three out of five stars is because this is the second pair I bought. I broke the first pair twice. Broke the frame, fixed it, wore it again a few times then broke them again. Womp. Womp. I know they're just an accessory and not actual glasses, but I guess I have to be more careful with putting them back in the case.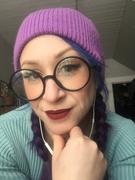 02/18/2020
Valen G.
United States
Cute but ok quality
These are great as costume frames, I was hoping I could put my own lenses into the frames but it's fine if I plan to dress up with them.