---
MORE IN THIS COLLECTION
Customer Reviews
09/18/2020
Amber
United States
I recommend this product
This color is life! But the formula could use a lil tweak
Let me preface this by saying that I am LIVING for this shade. I'm a fair skinned gal with blue eyes and strawberry blonde hair and I typically stick to berry shades. On a whim I decided to go for this one & it is my new favorite shade ever. Pigment on POINT! I got lip fillers and bought this bright *** shade just to be even more obnoxious about them... Now my husband can read my new lips from across the yard. This liquid lippie is definitely a "creamy" texture instead of the typical thin/watery consistency that liquid mattes tend to have. I really appreciated that. Okay, here is where I will probably get dragged for being super honest though... I had a good amount of transfer from my lips to any cups that I used even after waiting a while for this to dry. It did start to wear off within 2 hours. Which is a tiny amount of time compared to my go-to brand... which is the tube of $8 Maybelline Superstay Matte Ink topped with a little chapstick to prevent dryness. That ish stays on too damn long sometimes! Like... days ****. While the creaminess was a cool touch at first, over time this formula felt like any other liquid matte—dry. Unfortunately I didn't have the luxury of topping it with chapstick without sacrificing the hold of the lipstick. Long story short, I love Qveen Herby. She is a mfing Goddess and I KNOW she pours her heart and soul into this brand which is why I'll continue to support her. If y'all could figure out what the **** Maybelline puts in their liquid lip to make it pretty much life proof then holy ****... I'd never cheat on you. ESPECIALLY IF THIS SHADE IS HERE TO STAY!!! LOL!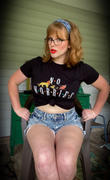 06/25/2020
Carrie P.
United States
I recommend this product
Mrs. C Phelps
Love this site, wish they had more items! Very quick to ship. Cute products and their makeup is great! I think I found a new place to shop!
06/06/2020
Divya A.
United States
I recommend this product
Amazing Lip Color and FInish
I received my first lip color in my Boxycharm and was surprised how matte the finish was but didn't dry out my lips! I decided to purchase more lip colors because of how pigmented they are, dry quickly and keep my lips feeling hydrated. I would 100% recommend.