Customer Reviews
09/18/2020
Amber
United States
I recommend this product
Great pigment— packaging issue though
Okay I mfing love this blush. The color is perfect for my fair complexion and I am now converted to cream blushes for the rest of my days!! The issue- blush migrated to the top of the tube in transit and it was a pain in the butt to get it back where it belonged. I live on the FL/GA line so I'm sure heat and whatnot played a roll.. but also the bottom twisty part of the tube came loose/off so that was super weird. I know the Qveen ain't cheap so maybe it was a mishap with just mine? Anywho- love the product itself. I caught it on sale so no harm no foul. I'll keep using it !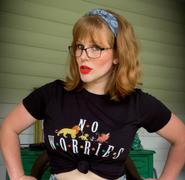 09/29/2020
Qveen: For the Modern Day Boss Bitch
Thank you for your honest review! We are working on the packaging :) You look stunning in your pic!!
09/14/2020
Sarah S.
United States
I recommend this product
Love it so easily goes on and stays
Beautiful and is I easy to use nice and creamy !!!
09/13/2020
Anonymous
United States
I recommend this product
Amazing product!!
I love the color and application of this blush! So easy and stays on for a long time unlike powder blushes!
08/24/2020
Jordana B.
United States
Perfect versatile blush
Full of color, the perfect everyday blush that can be used for work or a night out!! Love it!!
06/17/2020
Emily O.
United States
Pretty peachy pink!
This color is beautiful! I'm usually not a fan of cream blushes, but this one has a great formula. It does not tug on my skin if I apply it directly from the highlighter stick and blend. It feels smooth and hydrating. The color gives such a pretty pinky peach flush. You also get a good amount of product for the price! It would take a while to go through this whole thing.