Customer Reviews
06/25/2020
Saoirse N.
United States
I recommend this product
All dried up—Unusable
I got my shipment and went to use the mascara. It was all dried up and balled around the wand. It was not useable. Not even a spec of it was liquid. I contacted customer support and they said I needed to contact route insurance to get a replacement. I contacted route and they said because it wasn't a damaged shipment I couldn't get a replacement. So I contacted customer support again and they said to contact route again. I'm tired of the run around. I love Qveen Herby but I was never able to even use the mascara since it was all dried up and I can't get a replacement.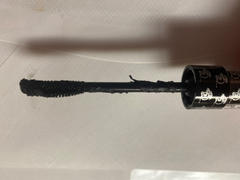 07/23/2020
Qveen: For the Modern Day Boss Bitch
My babe! I'm so sorry to hear this was your experience. Please know this is not the norm. I would be happy to get a replacement out to you or a refund. xo
06/17/2020
Emily O.
United States
I recommend this product
Love this mascara!
This mascara is awesome. I have puny lashes that most mascaras don't really do any favors for. This one does! I love that it is voluminous without being clumpy. The color is a rich black and the formula is not irritating. I wear contacts and have sensitive skin, so there are some mascaras that make me itchy and get flaky. Dragon lash has worked well thus far. I purchased one for my little sister as well, she loves it too. The only thing I'd point out is that it takes a little bit more time to dry in between the first and second layer of applying (about 20-30 seconds) than other mascaras I've tried. Keep in mind that this formula is a tubing mascara though, I expected it to be like that, so it's not an issue.
05/05/2020
Jordan B.
United States
I recommend this product
Absolutely Terrific
The DragonLash Mascara is abosolutely fantastic. It does not clump and the applicator is perfect. 5/5
05/04/2020
Rebekkah N.
United States
I recommend this product
Love!
I love that the liner stays on even through my chronic eye rubbing! The mascara is the same, it hasn't rubbed off or left flecks! ❤❤
05/02/2020
Anonymous
United States
I recommend this product
Beautifully Dark and Nice Consistency
It is such a dark black which looks beautiful on my lashes. It went on fairly nicely and was very liquidy but when it doesnt run when its wet or anything, it washes off in flakes which I like.